Sometimes, trying to prevent mosquitoes from breeding in your yard doesn't entirely solve the problem, and it you need to take matters into your own hands to get rid of them once they are already there. A mosquito trap can be a wise investment to keep mosquitoes away from a defined area.
Whether your goal is to use the overall volume of mosquitoes, or simply not have to lather up as often with mosquito repellent when you want to read a book on your back patio, a mosquito trap can be a worthwhile piece of equipment to keep around.
Mosquito traps are specially designed to lure the insects, zap them right away or trap them in a container or a net, where they perish. There's a lot of debate regarding these products. That's why we decided to see exactly what experts say and answer to one of the most frequently asked questions: Do these traps really work? Furthermore, we'll look into some of the best products and on market and closely analyze their features. Let's dive right into the topic.
Do Mosquito Traps Work?
The short answer is yes. They work anecdotally when talking with homeowners, but there is also science to back it up. According to one study, deploying this type of trap is an efficient and cost-effective way to keep humans away from mosquitos.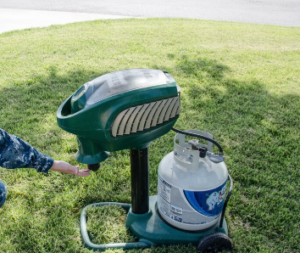 More specifically, the experiment compared mosquito traps with Bti spraying and concluded that the traps are qualitatively more versatile than Bti spraying. The reason for that is the devices' ability to capture all mosquito species, while Bti spraying only targets a few. Additionally, the study mentioned that mosquito traps are friendly with the environment, as their impact on wildlife is rather negligible.  
A mosquito trap works by attracting the mosquito to a blue light — the type of light they cannot resist because their instinct tells them food will be nearby. As the mosquito enters through the tight wire or mesh grid — which often carries a low-voltage electrical current — the mosquito is zapped or trapped.
Some will argue that a mosquito trap that kills mosquitoes is not a natural way to get rid of them, but we would suggest that it is far safer than having questionable chemicals applied to your yard all summer long, and is obviously safer than contracting West Nile Virus or another mosquito-borne illness.
Which Mosquito Traps are Best?
Here's a list of highly-rated mosquito traps you can buy online. All are proven products, with success in specific situations.
Dynatrap DT 1100 Insect Half Acre Mosquito Trap (find here on Amazon)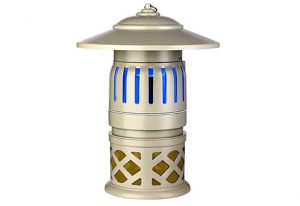 Our top choice.
We are big fans of the Dynatrap lineup.  The DynaTrap DT 1100 Insect Trap silently attracts, traps, and kills mosquitoes as well as other flying insects such as moths, biting flies, yellow jackets, wasps, hornets, and more. The product flawlessly delivers three-way protection for up to 1/2 acre. Its fluorescent UV light bulb produces a nice, warm light, while its surface is coated with titanium dioxide and releases carbon dioxide. The whisper-quiet, powerful fan attracts insects right inside the catch basket, into the screened based and captures them until they dehydrate and die – no buzzing or zapping involved. Everything happens without using one single drop of harmful pesticides or other dangerous chemicals; thus, the trap doesn't require any kind of propane or attractant.
The product has an easy twist-on design, which means that it features a unit that turns on and off with a simple twist. The 1100 comes with a chain for hanging as well as a cleaning brush. Its durable all-weather design makes it perfect both for indoor and outdoor use, as it excellently withstands all weather conditions.
For indoor and outdoor use.  This trap is a good choice for effectively getting rid of blood-sucking mosquitoes, flies and other pesky insects. In short, the bug zapper will help you eliminate each and every flying insect without any chemical products, radiation or odor.
Katchy's bug zapper, which is marketed for indoor use but also works well outside, uses a UV lightbulb that attracts all the pesky flying insects into the trap.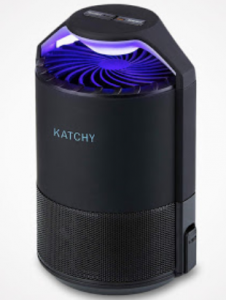 a fan then sucks the bug or mosquito in, and the zap will prevent it from flying back out.. Besides mosquitoes, this product works well on fruit flies, gnats, bugs, and so on. The trap comes with a mesh screen that protects you and your loved ones, preventing accidental contact with the electrical grid. The pest killer lamp is, therefore, besides non-toxic, non-radiative, and green, also safe for humans and pets.
You can use Katchy Zapper in all environments, such as houses, workplaces, and hospitals. The zapper is easy to set up and clean. For setting it up, all you need to do is hang it to hooks or set it down on any solid surface. As the dead insects are collected on the trap's bottom tray (which can be removed and rotated), you can clean it with ease.
Hausbell Mosquito Killer, Bug Zapper, Mosquito Trap (Find Here)
This one is another great mosquito eliminator that protects you from dealing with annoying insects. The first thing that should be mentioned about the Hausbell Mosquito Killer, Bug Zapper and Mosquito Trap is that it's eco-friendly, providing safety without any chemicals and working just great with mosquito attractant. Therefore, you won't need dangerous insect sprays and repellents. The product will take care of your dear ones by keeping your beloved living space bug-free and sanitized. Thanks to its 360 degrees all-around suction, mosquitos and other insects will be attracted by the LED light and sucked by the built-in fan into a chamber (removable cage) where they will remain until being desiccated to death due to the powerful airflow.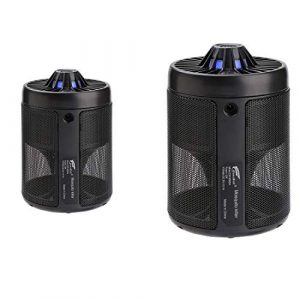 Another nice feature about this bug zapper is that it's lightweight and compact, hence you'll be able to effortlessly carry it and place it in your living room, bedroom, kitchen, basement, garage, restaurant, café, office, store, or any other outdoor enclosed space. Plus, it will help you sleep better if you turn it on about three hours before bedtime. Its virtually silent fan is ideal for pregnant women, babies, and toddlers, who need plenty of quiet time for a proper rest.
Livin' Well No Zap Mosquito Trap – 3 in 1  (Find Here on Amazon)
The Livin' Well Trap is a cut above on a few fronts. This no-zap combo bug catcher keeps you and your family protected from mosquitos, flies, moths, bees, and other flying insects. It lures pests with its electronic fly trap light, attractant (DIY) or sucks them up in a strong DC vacuum fan. Covering approximately 1,000 square feet, it can be used both indoors and outdoors, from the patio to the pantry. The insect killer is completely waterproof, thus designed for rain and wild weather conditions.
You might not have heart of Livin Well the company, but they are based in Washington and have been making household products since 2012.
Livin' Well Mosquito Trap  is a highly appreciated fly trap device, renowned for its ability to catch bugs anywhere. In addition, it's very quiet, providing calm, safe protection. The UVA bulb life lasts for about 8,000 hours, which translates into almost a year of nonstop use. Not to mention that replacing the light bulb is a piece of cake.
If you want to make the mosquito and flying pest trap even more effective, fill the tray with bait like yogurt, sugar or honey. For cleaning the tray, you only need to detach it, clean it and attach it back on. It makes controlling mosquitoes simple.
Crioxen Indoor Plug-in Bug Zapper – Mosquito Trap with UV Light (Find Here on Amazon)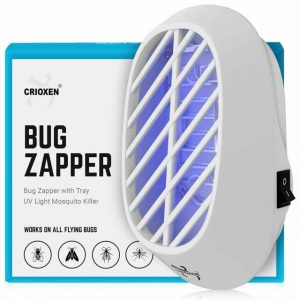 Best for indoor use.
Last but definitely not least, this indoor plug-in zapper will make your life more comfortable by offering full protection against mosquitos and other flying insects. It works by attracting bugs with its 4 UV LEDs that emit light and killing them in seconds with high voltage. This simple mechanism makes it an efficient device to rid any premises of mosquitos. Thanks to its small size, Crioxen Indoor Plug-in Bug Zapper – Mosquito Trap with UV Light – Indoor Mosquito Killer – Electric Insect Repellent – Gnat Trap for Mosquitoes Fruit Flies and Flying Gnats is perfect for cafés, hospitals, and kitchens, also being able to protect up to 500 square feet.
While the fly zapper uses electricity to kill insects, it's totally safe for humans and animals. The top-notch materials (RoHS and REACH approved) it's made out of adds to its eco-friendliness and durability, which means that it will serve you for a long, long time. In order to operate this indoor mosquito trap, you simply have to plug it into a power socket and turn it on – the device has a single button. The special tray where bugs are collected is easy and quick to clean with the provided brush.
Are Bug Zappers Safe?
Bug zappers, like anything else, are generally safe if used as directed.  It is usually when people use a malfunctioning unit, or use them in ways other than as intended, when problems occur.
The National Association of Home Inspectors says that bug and mosquito zappers are no more of a fire hazard than any other appliance in your home.  As with those appliances, be sure that the unit is in good working order, is not in contact with water, and that the cords and electrical cables are in their original condition and not damaged or chewed by rodents.  Clean the units regularly just as you would want to clean any other appliance per the maker's instructions.
Let's just say this — compared to getting West Nile Virus, using a bug zapper is probably much better for your health.
Can you Use Less Repellent if you Use a Zapper?
Less is the key word. If you are in a mosquito-heavy area, we would not advise that you go without any mosquito repellent, especially if you will be outside during the evening witching hour.  However, you might be able to get by with less mosquito repellent, or just spot-spraying key exposed skin, which can help you and those you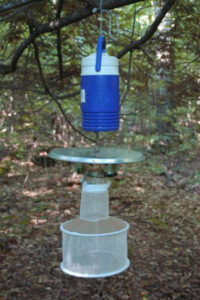 are with be more comfortable.
Are Mosquito Traps Good or Bad for the Environment?
Set aside the fact that you are attempting to remove mosquitoes from the food chain (perhaps bats won't be happy with you), and mosquito traps are generally OK for the environment.  They use a bit of energy or burn some propane, but a very small amount.
The bigger question is related to chemicals.  Some traps emit a low-level of chemical or CO2 in order to attract mosquitoes.  Assuming outdoor use, the NIH has deemed most of these products as safe.  Our layperson view is that the chemicals emitted are probably no worse than the scent given off by burning tiki torch fuel.
A compelling way to look this question is if the mosquito trap is better or worse than the alternative.  Given that many people are choosing between a mosquito trap on their patio, or chemically treating their yard, the trap is likely more environmentally-friendly.
Can You Use Mosquito Traps Indoors?
Maybe.  It depends on the product, but some of them will certainly help you get rid of mosquitoes indoors.  Some are meant for outdoor use only, others are meant for indoor use as well as outdoor.  Your best bet is to look at the manufacturer's specs before buying and then follow their directions.  The problem (and danger) with getting a product intended for outdoor use, and then using it indoors, is that it might use a chemical that is not rated for use inside a building.  All of the major manufacturers of mosquito traps make products for both indoor and outdoor use, you just need to find one that is suited for either.
Propane-burning traps should never be run indoors.
Of the ones we listed above,
With all this information on hand, you're now ready to make an informed decision and choose the mosquito trap that will protect you against those annoying insects.