The Tiki torch is synonymous with Polynesian culture, outdoor gatherings, and a tropical island feel.  Tiki torches are also a favorite for keeping mosquitoes and bugs away from a small outdoor area.
Tiki torches have become a go-to tool against mosquitoes because they add some decorative style, and are pretty inexpensive. You can get them in different sizes and they are very inexpensive. They provide extra light, set the mood for fun, and if you put the right fuel in them, they create a protective barrier that stops mosquitos, and other biters from ruining your good time.
Compared other yard setups – like a mosquito misting system – tiki torches will be cheaper and more environmentally-friendly.
The repellant value of the tiki is created by the fuel you burn in them. These wonderful torches have canisters that hold liquid fuels, and a wick sticks out of the canister. You light the wick and the fuel keeps the fire going.
As with any fuel, though, you will burn through it and eventually need to refill.
What Tiki Torch Fuels are best for repelling mosquitos?
Mosquitos are the number one biting bug pest that sends us indoors when we would rather be outdoors. There are several fuels that can be used in the lights to repel these vampires.
If you are burning tikis to repel insects you want fuel that contains a natural repellant. Natural repellants are capable of creati8ng the proper atmosphere in your yard in a safe manner.
The most popular natural repellants used in torch fuels are:
Citronella oil
Eucalyptus oil
3 Best Tiki Torch Fuels
The following products have been tried and proven to work very well at fending off the bugs that are stopping your fun.
Bitefighter
Bitefighter is a mosquito repellant fuel that can be used in any brand of tiki torch. It has a citronella and cedar formula that is highly effective at making biting bugs find somewhere else to go.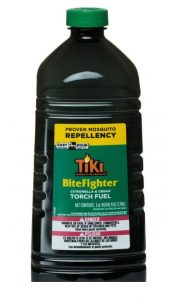 This fuel does not have the harsh odors you will find in some of the citronella-based fuels. The odor will deter mosquitos from wanting to be in your yard without stopping you from wanting to be there.
It is packaged in a container with an easy pour spout so you have less spilled material when you refuel your torches.
Bitefighter is long-burning and will protect you while the flickering flames entertain you, and it is a good value overall  Made by the Tiki brand, they have been at it for more than 60 years so you can trust them.
Pros:
Pleasant, mild scent
Made by the trusted Tiki brand
Cons:
Can product a lot of residual smoke
Find Bitefighter here on Amazon.
Firefly Eucalyptus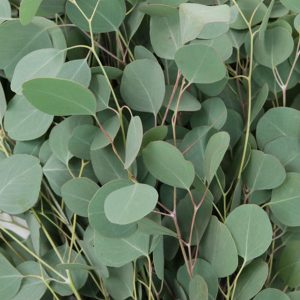 Firefly Eucalyptus scent tiki oil works because eucalyptus is one of the best-known naturally occurring mosquito repellants. Almost everyone has heard of the effect's citronella has on biting insects, but eucalyptus has been used since the 1940s as a bug repellant. The Center for Disease control has tested the abilities of eucalyptus as a bug repellant and they approve of it as an effective ingredient that is safe and non-toxic.
According to current studies a mixture containing 32% eucalyptus oil can be up to 95% effective at repelling mosquitos for as long as three hours.
The Firefly Eucalyptus scent oil is virtually odorless, much milder than citronella. Many people do not like the odor of citronella, or have allergic reactions to citronella, so this eucalyptus alternative gives them the relief from the bugs without the odor. If you would like another scent like peppermint, lavender, or thyme, (which are also known for their ability to repel bugs) you can add the essential oils to this odorless formula and create your own unique repellant.
It also burns cleaner, producing far less smoke and soot than many of the other popular tiki fuels. Many of the tabletop torches sold today require you to use a clean burning tiki fuel, and this one qualifies.
Pros:
Most people love the eucalyptus scent
Very mild scent
Cons:
Burns quickly
Creates lots of smoke
Find Firefly Eucalyptus here on Amazon.
Firefly Citronella
Firefly Citronella is a clean burning fuel like their eucalyptus scent. It can be used as an alternative to paraffin lamp oil. It is smokeless, almost-odorless, and will not create black soot that gets all over your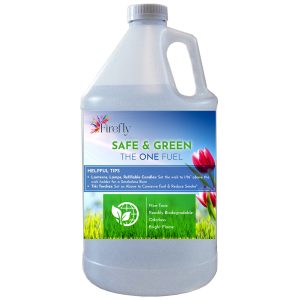 torch, your hands, and everything else it comes into contact with. The oil does have citronella oil infused into it so you will smell a faint fragrance of citronella when the bottle is opened and when the torches are lit.
Citronella is one of the best-known and most effective oils when it comes to keeping bugs at bay. The formula in this particular brand creates a fuel that burns longer than most typical brands.
This fuel is non-toxic. It is also biodegradable. It is safe to use around people with allergies, around children and around your pets. Do not let children or pets come into direct contact with the liquid but burning the oil in their presence will cause no harmful effects. It also does no harm to the environment, and it does not kill the bugs, it simply stops them from wanting to come visit you.
Pros:
Non-toxic; a relatively green product
Safe around pets
Cons:
Strong fragrance; be sure you like the scent of Citronella
Tiki Torch Fuel FAQ's
Are the canisters in Tiki torches replaceable?
The majority of tiki torches are created so that the canister can be replaced if the need arises. Many people choose to replace their canisters if the cover cap gets lost, or the canister has sat in the weather too long and became difficult to open and close. The most popular canister used for this is the Tiki Branch canister. This canister design works perfectly with the majority of all torch designs. They are perfectly proportioned and can be simply set in position where last season's canister was. They typically hold about 12-ounces of fuel, and can be operated with any brand of fuel that you prefer.
How long should tiki torch fuel last?
It depends on the type of fuel and the size of the torch, of course, but expect most tiki torch fuels to last for 3+ hours of continuous burning.  Our experience is that some of the products can go as long as 6 hours, but it all depends on how you are using it.  If you have an outdoor party that will go into the night, you probably want to have multiple fuel canisters ready as you more than likely will need to replace them.
Can you make your own Tiki torch?
Yes, you can.  Just be careful — this is fire and fuel after all.  It is not something to experiment with if you are not taking safety precautions.
There are a lot of different ways that a responsible and safe person can create their own torches. You can buy the Tiki canister and use it in a variety of home-designed torch ensembles, or you can even set them on a fire-retardant surface and use them as a table-top device.
You can utilize old jars, like glass jelly jars, pickle jars, and such with a wick and create your own table-top torch. You basically need to clean the jars and lids, then drill a hole in the center of the lid. Place a wick through the lid so that it will stick into the jar and stick slightly above the lid. Fill the jar with your favorite fuel, screw the lid back onto the jar, and set it on a stable surface before lighting the wick. If you keep a cheap candle sniffer close by the homemade candles are easy to extinguish. You can even take a short piece of plumbing pipe(metal) and screw a cap on one end, then you can stand this pipe on top of the wick to protect it from moisture when the candle is not in use.
You can make a free-standing torch by using a can, like the ones your vegetables come in, and a wooden dowel of the length you desire. You need to clean the can and remove the label. Then take a screw and attach the can to the wooden dowel. Bury the other end of your dowel in the ground far enough to make the setup stable. Then place a canister or glass jar full of fuel in the center of the can and enjoy.
Can you make a replacement wick?
You can make a new wick out of cheesecloth, twine, strips of cotton fabric, rolled up pieces of paper like newspaper, paper toweling or even toilet paper. Commercially produced wicks last longer and do not need to be replaced as often as homemade wicks do, but you can get creative and make your own if you do not have any candle wicks or wicking material on hand. If you make a wick from cloth be sure to tightly wind the cloth so the wick burns slower.
Are citronella and eucalyptus the only essential oils that repel mosquitos?
No, these are two of the main oils because they are the oils that are most effective. Several other essential oils such as lemon grass, cinnamon, peppermint, thyme, lavender, basil, and cloves are also known to have bug repellant properties. Most of the time these oils are mixed with lotions and rubbed on the skin instead of being put in the torch fuels. This is mainly because eucalyptus and citronella are more effective so less oil is needed to make a repellant mixture.
Is it safe to make DIY Tiki Fuel?
That depends.  How careful and safe are you?
Making a safe version of tiki fuel at home is possible, but you must use the right ingredients. You can burn pure olive oil, vegetable oil, or coconut oil in your torches but those oils do not have the bug repellant properties that you get when you buy the commercial repellant oils. To get the oil to repel bugs you need to add essential oils that contain eucalyptus or citronella. You need to mix the essential oil up with the burning oil and then fill your tiki canister.
Tips:
Vegetable oil may smoke more than most commercial torch fuels and is NOT to be used in the torches that require clean burning fuel only.
Vegetable oils have their own unique aroma so your fuel may smell like French fries dipped in citronella.
Olive oil and coconut oil do not smoke as badly as vegetable oil
Peanut oil puts off the least amount of smoke.
The ration of essential oil to burning oil is going to depend on your own likes and preferences and the oils you are using. In other words, you are going to have to play around with your formula until you find the one that you like the most.
You can burn isopropyl alcohol and water mixed, but should never burn isopropyl alcohol in a commercial torch. This is not a safe alternative to torch fuel. Some people soak leaves from lemon grass or citronella in alcohol to create repellant fuel, but once again, this mixture is not recommended for commercial torches, and should be used cautiously in homemade torches.
Never use gasoline, lighter fluid, or other highly-flammable fluids.  Never.
Tiki torches are fun and useful. If you live in the south there is a good chance that you have several of these external lights ready to use. There are a lot of new commercial torch designs that create beautiful light sources that you can enjoy for years to come.
Be safe, light a few torches, and take back your property!