Are you tired of those pesky mosquitos buzzing around your patio or backyard leaving you with itchy, swollen bites?  Many in this situation look to a mosquito fogger to get rid of mosquitoes. Mosquito foggers are a great way to quickly and effectively eliminate mosquitoes for a temporary period of time.  From commercial applications to residential backyards, these devices are designed to greatly reduce the local population of mosquitoes, flies, and other pests. Let's review three of the best mosquito foggers on the market and then go through some commonly asked questions.
3 Best Mosquito Foggers
Hot Shot No-Mess Fogger
For indoor use.
The Hot Shot No-Mess Fogger is a popular choice and one of the most affordable indoor foggers available. This fogger is in a pack of three or six at most hardware stores. You can also find it on Amazon. It's important to remember that the Hot Shot is designed for indoor use only, which includes enclosed spaces like apartments, attics, basements, cabins, campers, garages, households, sheds, and so on. However, you must not use this fogger in very tight spaces such as closets or cabinets.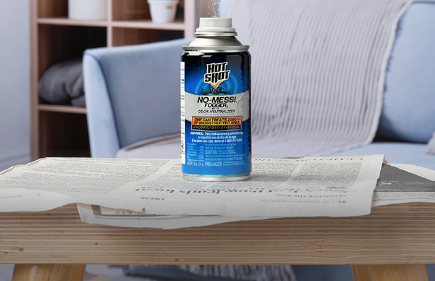 Both humans and pets should leave the area the fogger is used in for at least two hours. Be sure to follow the instructions on how to use the product properly to ensure your safety and the effectiveness. When using the Hot Shot, place one fogger in each room that you want to treat, then activate it and leave the room immediately. After two hours, open the windows to ventilate the space. Then you can reenter the area.
The fogger will kill mosquitoes and other flying insects on contact, and it will even continue getting rid of these pests for up to six weeks. One of the Hot Shot's best features is that it can reach deep into cracks, crevices, and other hard-to-reach places for a more thorough treatment. So, even the tiniest bugs behind the baseboard won't escape its reach. Additionally, the dry fog formula doesn't leave any stains, oily residue, or odors behind, so you won't have to worry about cleaning up afterward.
Pros:
Designed for indoor use (use per the instructions, of course)
Passive – you set it up and then leave
Effective on indoor ants (a common issue)
Cons:
Not for outdoor use
Not mobile — if you are trying to target multiple areas
Burgess Insect Fogger
A great in-between choice.  Good for smaller yards.
The Burgess Insect Fogger is another popular choice as it's able to cover up to 5,000 square feet of outdoor space in under 10 minutes. It's perfect for large backyard areas, patios, decks, and porches. You can use this fogger to eliminate flies, gnats, spiders, wasps, mosquitoes, and other pests. When the fogger's on, avoid contact with the smoke and leave the area immediately until the fog has cleared. This usually doesn't take too long, usually a couple of minutes, but the exact time it needs depends on the size of your yard.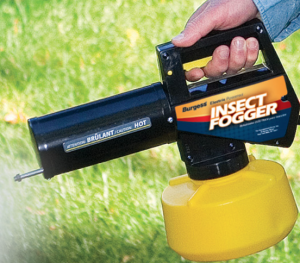 The Burgess Insect Fogger contains an effective formula that instantly kills pests on contact and keeps killing them for up to six hours. It comes with a hose-end adapter and an adjustable nozzle for easy application. There are included instructions on how to deliver the most optimal dry and white fog, so be sure to follow them carefully for the best results. The fogger breaks down the insecticide into microscopic particles that are able to penetrate the deepest cracks and crevices. The fog will easily be able to travel to those hard-to-reach areas, eliminating any unwanted pests in the vicinity, including where mosquitos rest.
The Burgess is powered by propane, so there's no need to plug in or find an electrical outlet. One propane tank will last around 2.5 hours of fogging time — in some cases, then, you may need multiple tanks. The fogger's insecticide is ready to use, so there's no need to mix or measure it. Compact, it's easy to store and bring it on the go.
Pros:
Propane power is cleaner and requires less maintenance than gas
Covers lots of ground
Cons:
Not everyone keeps propane canisters around
Might not be ideal for large properties
Tomahawk Power Fogger
Professional grade.
Last but not least, we have the Tomahawk Power Fogger. This is a backpack mosquito fogger, something that we did an entire piece on.
This fogger is a heavy-duty machine that's capable of covering a large outdoor area: up to one acre of land in under 30 minutes using the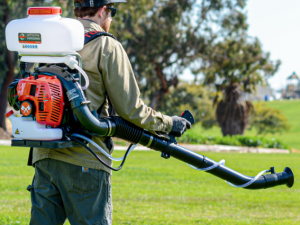 3.7-gallon tank. With the boost pump, it has a 40 feet horizontal reach and 25 feet vertical reach. This allows you to easily fog those problematic areas of your yard, reaching tall trees and even buildings. As you can tell, it's ideal for large outdoor spaces such as farms, vineyards, orchards, parks, and other commercial areas. The Tomahawk is CARB and EPA compliant, which means it's certified to use everywhere and follows the top emission standards.
The fogger works with both liquid and dust pesticide formulas, giving you the flexibility to choose whichever works best for your needs. It's powered by a two-stroke gasoline engine to produce faster and more consistent fog. It also includes other features, such as an adjustable throttle to control your spray patterns, an adjustable grip to handle the device comfortably, and a power lock to set your spraying speed. There are adjustable padded straps, so you can easily carry it around.
Overall, the Tomahawk Power Fogger is a great choice if you're looking for something professional, powerful, and reliable. The device also works as a duster and leafblower, so you're really getting three tools in one.
You will need ear protection when using this.
Pros:
Lots of power
3 tools in 1 (duster, leaf blower, fogger)
Highly mobile – you can attack the specific areas of need
Cons:
Gas operated, so requires fuel and maintenance
Not for indoor use
Mosquito Fogger FAQs
Do mosquito foggers work on other bugs?
These three foggers can be used to eliminate not just mosquitos, but other pests, too. Some of the bugs we have seen positively impacted (or negatively impacted from the bug's perspective!) include house flies, black flies, gnats, spiders, wasps, bees, and other flying and land insects. Not all foggers are the same, so be sure to read the specs to make sure it covers the pest you're aiming for.
What liquid do you use with a typical mosquito fogger?
The type of insecticide liquid you use with your fogger will depend on the type of pests you're trying to get rid of. Some liquids work better for certain types of insects than others, and you'll also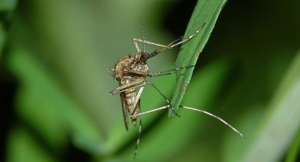 want to be sure the insecticide works with your fogger. Common options include pyrethrins and permethrin, which are effective against multiple types of bugs such as mosquitos, ticks, fleas, flies, and moths.  Note that pyrethrins and permethrin are both harmful to bees, so don't overuse, especially around bee habitat.
Once you find a good chemical for your situation, buy a bunch of refills so you have them on hand.
Can mosquito foggers be used indoors?
It depends on the fogger, and on the chemical you are using.  Some mosquito foggers can be used indoors. However, make sure you read the instructions as some are specifically made for outdoor-use only. The first fogger we reviewed, the Hot Shot No-Mess Fogger, is designed for indoor use. Keep in mind: many foggers use an insecticide that can be harmful to humans if in contact, inhaled, or ingested, so make sure to read the safety precautions.
Will a mosquito fogger kill bees?
Yes, this is a risk if you are using certain chemicals in the fogger.  Pyrethroids and permethrin are two chemicals that are harmful to any pollinator.  We like opting for other chemicals that target mosquitoes only (although if your problem is with ticks, you might need permethrin. Permethrin is a great way to keep ticks out of your yard.)
Are mosquito foggers safe for pets?
Again, it depends on the chemical you are using inside the fogger.  Some have higher levels of toxicity, while others are advertised as being pet-friendly.  We are not the EPA or CDC, so we always recommend researching their websites to make your decision on specific products.