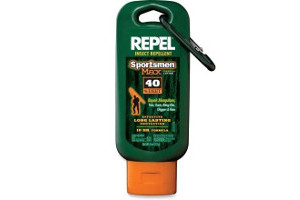 Shielding yourself against these pesky mosquitoes is becoming just as important as wearing sunscreen, and we aren't crying wolf.  Mosquitoes can transmit threatening viruses, such as Malaria, Zika, Dengue, and West Nile, so these days we have to protect our skin from these bloodsuckers and disease carriers.
There are a few types of repellents, and they run the gamut from plant-based sprays to wearing a special shirt.  All of these are effective, it just depends on what your preference is, and what your activities will be while outdoors.
The one we want to look at today is the repelling lotion, something that many prefer because of the ability to control the exact coverage area.  Applying a topical mosquito repellent lotion is an easy and effective solution in our battle against insect bites. These products not only keep mosquitos away but other bugs, such as ticks and other tiny annoying creatures away from our body, therefore preventing us from getting bites, rashes, skin eruptions, irritations, allergic reactions, viruses and other diseases.
These lotions include active ingredients (DEET, picaridin, and permethrin) that make the insects completely lose interest in coming anywhere near our skin. Also, for those concerned about such synthetic chemicals, some repellents are also made out of organic herbal ingredients such as citronella and lemon eucalyptus oil.
Nowadays there's a wide range of mosquito repellent lotions on the market and choosing the right one can be a bit overwhelming.  First we'll advise you what to look for in a mosquito repellent lotion and then we'll analyze some of the bestselling and highly appreciated products in this category so that you can go for the one that best suits your needs.
What to look for in a mosquito repellent lotion?
When deciding which mosquito repellent lotion to purchase, think of the amount of time that you'll be spending outdoors and go for the product that offers you suitable protection for at least that amount of time.  Keep in mind that swimming or sweating can decrease the duration the repellent will be effective, so therefore you may need extra applications to remain protected.
Ingredient-wise, as we've mentioned earlier, the best active substances to look for are DEET, picaridin, and permethrin.  Those are really the big three when it comes to synthetic and effective active repellent ingredients.  If you want to opt for a natural repellent, look for the ones that contain lemon eucalyptus and citronella oils, but note that while these are the more organic choice, they will have to be applied more often to keep the bugs away.
DEET is perhaps the most common ingredient in mosquito repellents.  It is generally accepted as safe, although a small amount will be absorbed through your skin.  To reduce the amount that is absorbed, avoid using it in conjunction with sunscreen, and try not to apply it at times when you will be drinking alcohol.  Our feeling is that even some absorption is better than the risk you face by acquiring West Nile virus or Zika.
If you have second thoughts about using repellent or lotion, we recommend at least investing in a mosquito-resistant shirt that will help protect your upper body from both bugs and sun.
In terms of formulation and comfort, the best thing you can do is to choose a lotion that is not greasy or oily, so that your skin won't get sticky and/or itchy. Most of the bestselling products have a mild scent, so you won't have to worry about dealing with strong or off-putting odors.
There is a huge variety of mosquito repellent lotions to opt for. When doing your online research, make sure you pick a bestselling one with a proven efficiency that has plenty of positive reviews and is manufactured by a trustworthy brand.
Sawyer Products Premium Insect Repellent with 20% Picaridin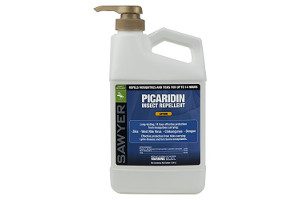 The time-controlled release of the active ingredient (20% picaridin) in this product is very effective in protecting your skin from annoying bites. It will last for up to 14 hours against mosquitoes and ticks and up to 8 hours against gnats, biting flies, sand flies, and chiggers. You can safely use it with the whole family and it won't stain your clothing, or damage your fishing, sport & hiking gear, watches, or sunglasses. It has a non-greasy formula that features a pleasant, subtle citrus fragrance that will evaporate as soon as it dries out. Sawyer Products Premium Insect Repellent with 20% Picaridin is a great choice if you're looking for superior protection, convenience, and efficiency.
3M Ultrathon Insect Repellent Lotion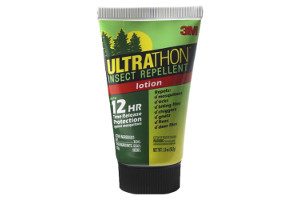 Originally developed for use by the US Military, this excellent and effective mosquito repellent lotion has 34.34% DEET for excellent protection against dangerous and annoying insect bites. 3M Ultrathon Insect Repellent Lotion constantly receives superb reviews for keeping mosquitoes, biting flies, deer flies, ticks, fleas, gnats, and chiggers far away from your beloved skin. While wearing it, you'll have peace of mind that you're shielded against the likes of Malaria, Zika, West Nile, Chikungunya, Dengue, and Lyme disease. This product is also splash and sweat resistant and features an advanced, unique technology (3M Controlled Release Technology) that offers continuous protection lasting for up to 12 hours.
Repel Sportsmen Max Insect Repellent 40-Percent DEET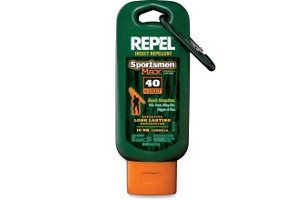 Another superstar of mosquito repellent lotions, Repel Sportsmen Max Insect Repellent 40-Percent DEET creates an effective barrier against mosquitoes, no-see-ums, fleas, chiggers, biting flies, and gnats. It lasts up to 8 hours and keeps you protected from all the nasty viruses like Dengue, Zika, and West Nile and other insect borne diseases. This product is designed for both the outdoor enthusiast and people who simply want to enjoy a pleasant, bite-free time. It features a non-sticky formula and a mild, pleasant scent, so there's absolutely no mess or inconvenience involved when wearing it.
Cutter Lemon Eucalyptus Insect Repellent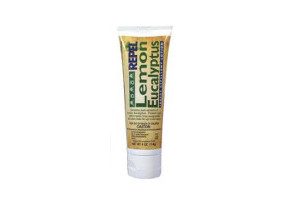 This product is ideal if you want to stay away from DEET or picaridin. Cutter Lemon Eucalyptus Insect Repellent's active ingredient is lemon eucalyptus extract oil, which has proven effectiveness where it comes to preventing insect bites that can transmit Zika, West Nile, Dengue and other insect bite based diseases. If you're using it when you're relaxing outdoors or taking a walk, this lotion will protect you for up to 6 hours. If you're engaging in more dynamic activities such as hiking or trekking, you might want to reapply it every 4 hours. Used as directed, this product won't damage your watch, sunglasses, tackle box, and any other outdoor gear. Plus, it features a non-sticky, non-greasy formula with a pleasant, very subtle lemon eucalyptus scent.