Babies and the outdoors.  It is a great combination.  My first child was colicky when he was a baby, and would cry for three hours or more at a time.  The only thing that would get him to stop?  Going outside.
Needless to say, we spent lots of time on walks, at parks and playgrounds, and enjoying the great outdoors.  It was a life-saver!
What happens, though, if you live in an area known for mosquitoes that carry disease?
It's a well-known fact that fresh air helps strengthen babies' immune systems and helps regulate their metabolism. In addition, sunlight (with the proper protection) helps fix calcium in the bones and increase Vitamin D.  Outdoor walks with your baby should happen as frequently as possible. Unfortunately, during the warm seasons, our little ones can be targets of mosquito bites as well, which often result in allergic reactions: erythema (redness of the skin), itching, and swelling (inflammation).
While one solution is to make sure your yard is as mosquito-free as possible, using a good mosquito repellent for your yard, this won't eradicate mosquitoes and doesn't help if you are on a walk, at a park, or in someone else's yard.
When do pediatricians say it is safe to use repellent on babies?
For an authoritative perspective on the best use of bug repellents and young children, we like to go straight to the American Academy of Pediatricians (AAP).  They recommend that no repellent be used on babies younger than two months.  That means if you have a newborn, the time spent outdoors should be done with a mosquito net over a stroller or in an environment with minimal mosquito risk.
For babies over two months, AAP recommends keeping the concentration of DEET low — below 30%.  Higher concentrations will protect for a longer period of time, but are not advised until the child is older.  If you can use a sunscreen lower than 30% DEET, go for it.
What to look for in a mosquito repellent for babies
Let's start with this:  Mosquito repellents are important, and they are a key reason why developed countries to dot see a spread of malaria and other vector-borne illnesses.
The problem is that most of the mosquito repellents designed for adults are perhaps not ideal for young children or babies. It is worth looking at what products might be more suitable for a baby. As we do, it is very important to remember that these products don't kill mosquitoes; they just make the surface of the babies' skin less attractive to these insects. Repellents mask the chemicals produced by the human body that are most 'guilty' of attracting mosquitoes.
A repellent's effectiveness is measured according to the amount of time that mosquitoes stay away from a baby's skin upon a single application. The term used for the product's efficiency is called CPT (Complete Protection Time).
The active ingredients in such repellents are either synthetic or herbal chemicals. The most renowned synthetic substance is called DEET (N, N-Diethyl-meta-toluamide or diethyltoluamide), and the most effective natural herbal substance is citronella. When we're talking about synthetic chemicals, according to the American Academy of Pediatrics (AAP), the repellents that can be used against insects on children between 2 months and 2 years old are those based on DEET, as long as the concentration of DEET is less than 30%.  However, picaridin is a newer odorless synthetic ingredient that is found in some products and has been used for over 20 years in Europe.
Permethrin, long-known as being an effective tick repellent, also works against mosquitoes.  Some studies have found that the skin absorption rate is about 1/20 that of DEET, and apply permethrin to clothing results in an exposure risk that is well below the EPA's recommended rate for toddlers.
For babies younger than 2 months old, parents shouldn't use any kind of repellent, including those based on DEET, picaridin, or even herbal ingredients.  It is better to use some type of mosquito screen or net, or simply make sure the the baby is always covered up. Keep a close eye on your baby to be sure a mosquito has not landed on them.  As a new parent, you have more work to do.  Add this to the task list.
Let's talk about some highly appreciated repellents that will successfully keep these annoying and potentially dangerous insects far away from your children.
Our 4 favorite repellents for babies and children
Babyganics Natural Insect Repellent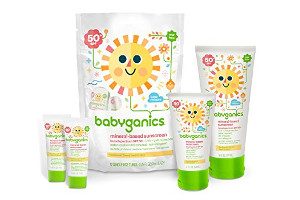 This product is ideal for parents who want to avoid synthetic chemicals such as artificial fragrances, dyes, sulfates, phthalates, and parabens. Made out of plant-based ingredients such as citronella, peppermint, rosemary, lemongrass, and geranium.  100% natural essential oils, Babyganics Natural Insect Repellent will keep not only pesky mosquitoes but also gnats and flies away from your kid. This repellent is safe for the entire family and its fragrance is also very pleasant. Besides offering protection from bites and stinging insects, Babyganics Natural Insect Repellent will also nourish your baby's sensitive skin and get them ready to step out and explore the beautiful outside world.
California Baby Bug Repellant Spray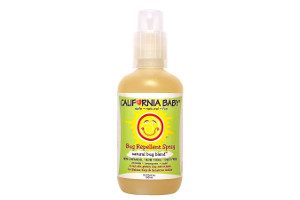 Another great choice if you want to keep your child protected from insect bites and synthetic ingredients, California Baby Bug Repellant Spray is highly rated by parents nationwide. It has a safe, gentle formula, and a nice smell, thanks to its natural citronella scent. Its protective components are vegetable and plant-based, with no toxic, chemical, invasive, or irritating additions. Featuring an extended period of protection, California Baby Bug Repellant Spray will take good care of your kid's skin while keeping insects away. Plus, all family members can use it day and night, which allows you to avoid the inconvenience of buying multiple different products.
Avon Skin-So-Soft Bug Guard + Picaridin with Vitamin-E & Aloe Spray Pump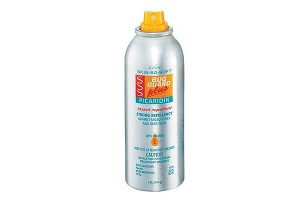 This wonderful, trustworthy spray is easy to apply and protects your baby as well as the rest of your family from mosquito bites for up to eight hours. Aside from mosquitoes, Avon Skin-So-Soft Bug Guard is also efficient against no-see-ums, flies, biting midges, and gnats. It contains picaridin (an effective alternative ingredient to DEET), it's enhanced with vitamin E and has a packaging that lets you carry it with you everywhere and use it effortlessly. Also worth note is its barely-there odor and light, clean feel on the little ones' skin.
Cutter All Family Insect Repellent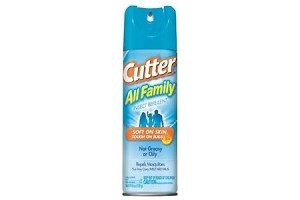 With a 7-percent DEET, a non-greasy or oily formula, this product effectively keeps mosquitoes and other bugs at bay. Cutter All Family Insect Repellent is lightly scented, leaving the skin well-protected, clean, and soft. The 360° spray pump sprays at any angle, ensuring the entire process of applying protection is quick, pleasant, and extremely easy. It's ideal for the entire family and lets you and your kids enjoy fun, outdoor activities without having to worry about bug bites and the associated viruses (West Nile, Chikungunya, Dengue, Malaria & Zika).
DEET Comes in Lots of Different Strengths.  What Should I Use?
DEET is advertised in many different strengths, usually expressed in a % concentration of the chemical.  This causes confusion for many consumers.
The bottom line:  It doesn't really matter.  The belief in the scientific and mosquito control community, after many years, is that the concentration of DEET doesn't affect that way the chemical works or the penetration of the skin.  Rather, it affects the duration of how long the DEET works before reapplication is necessary.  30% DEET works for a longer span of time than 10% DEET does.  But keep in mind the AAP rule to keep the DEET proportion under 30% for young children.
What if my baby gets a mosquito bite?
Don't fret, the odds are that your child will probably get a bite or two (or more) along the way.  It is all part of being in nature.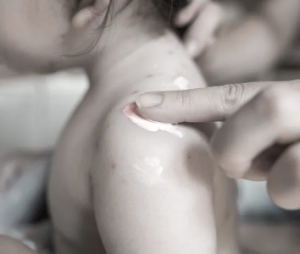 If a mosquito bite is bothering your baby, calamine lotion can be a great option, but there are many options — both OTC products as well as home remedies — that are natural and should be safe on children of any age.  We did an entire piece on how to treat mosquito bites, with most of the options being completely natural.
How do mosquitoes choose who to bite?
Mosquitoes choose their 'victims' based on skin odor, carbon dioxide emissions, and traces of sweat.  When they choose a child, unfortunately the youngest of them can't evade or swat them accurately.  It is highly recommended for parents to use mosquito repellents on their babies' skin that isn't covered by clothes (face, neck, arms, legs) whenever they take their kids out for a stroll in a mosquito-rich area. However, this is your baby we are talking about, and you want to be careful with anything that goes on them.
Now that you know everything you need about mosquito repellent for babies, and have several great options to consider and take advantage of, you and your family will be able to enjoy peace of mind during warm season outdoor activities. Have fun!
The Single Most Natural Way to Get Rid of Mosquitoes
If you want to know the single best natural way to get rid of mosquitoes, it is definitely by eliminating the breeding ground for them. Get rid of standing water, and take other steps to control mosquitoes in your yard.
We know that nobody likes putting repellent on their young child. To reduce the need for it, always start by eliminating the mosquito habitat in your environment.
Written by Tick and Mosquito Project staff.  Most recently reviewed by by Nicole Chinnici, Northeast Wildlife DNA Laboratory Director at East Stroudsburg University.