A good mosquito shirt can be a perfect solution to spending time in a mosquito-prone area.  Unlike the old days when mosquito-designed garments looked like you were trying to safari, today's mosquito shirts can be stylish, functional, and most of all comfortable. They provide an incredible added benefits of keeping the sun off of your arms and neck (if you have a collared version).
Why a Mosquito-Repelling Shirt?
If you are trying to keep mosquitoes off of your face without suing excessive bug spray, you have almost no choice but to use an unsightly (and pretty uncomfortable) headnet. Keeping mosquitos off of your torso and arms, however, gives you many more options, several of which are quite attractive.
We have been using good mosquito shirts for several years now, during times when we know we will be in tall grass, heavy forest, or other rural or wild areas that have little mosquito control.  We have used them on canoe trips in the northwoods and while working outside at the height of summer bug season.  Compared to using a heavy and regularly-resprayed dose of mosquito repellents, a mosquito shirt is a very green option – especially if you get one made from organic or recycled material.  Instead of dousing yourself in repellent, you simply put on a comfortable shirt that solves much of the mosquito problem.
When combined with other bug repelling clothing, a shirt is a key part of an ensemble that can be a real first-line of defense against mosquitoes, black flies, and even ticks.
If you focus on quality, you will find that many of these shirts are so comfortable that they become a great warm-weather outdoors shirt even when mosquito protection is not the #1 priority.  Many of these shirts protect against the sun, too, so you are doing your skin a favor as well as protecting against bites.  That is a big bonus, because it allows you to conserve on the sunscreen as well (just be sure your shirt has SPF qualities).
We will talk about what to look for in a mosquito shirt below, but first we wanted to get right to the point:  Our favorite mosquito (or other insect) shirts on the market right now.
5 Best Mosquito Repelling Shirts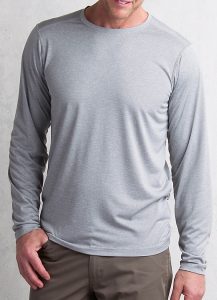 Ex Officio Tarka Long Sleeve Tee (Bugsaway)
The first of two Ex Officio models that we like, this one is in a long-sleeve tee design which some will prefer.  Made of a quick-drying polyester knit, the bugs will find that they cannot penetrate this shirt and quickly lose interest. It is anti-microbial so you will not develop a bad stench after just a few wears.  We have liked the Exofficio brand for many years, as they seem to do a great job with their design and production.  It is treated with Insectshield, something that can add another layer of mosquito repelling qualities.  If you prefer a shirt that is not button-down, this is probably the best one for you.  Find here on Amazon.
Ex Officio Bugsaway Tiburon
Also from ExOfficio, the Tiburon shirt is a more traditional button-down model with a collar.  If you want a shirt that will look good in many settings — even some that are a little on the upscale side — this shirt will work.  Cut in a way that looks stylish, it is designed to keep the bugs away from your skin.  Built-in vents allow for airflow when you are in hot, sticky situations, and the Insect Shield treatment gives it an extra layer of protection if you are looking for even more repelling action. Plenty of pockets and buttons allow you to use this shirt however you need to.  We have found that the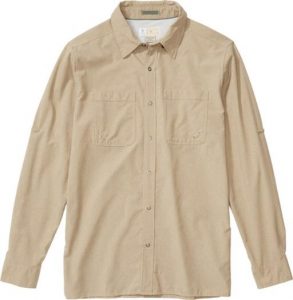 fabric holds up very well to repeated use, so you can put it to work in the heat without having a smell affect the life of the garment.  Find here.
Insect Shield Hoodie – LL Bean
While we like a collared shirt when it comes to being outside in mosquito country, a hoodie also serves the purpose of providing cover on the neck so you can be more economical with your bug spray.  Insect Shield makes a long-sleeved hoodie that we really like, and is treated in permethrin during the manufacturing process.  This means you will not only have protection against mosquitoes, but since permethrin is one of the most effective tick repellents on the market, you have a good chance of reducing the ticks that find and use you as a host.  Where this hoodie really excels is when you are in an environment that might warrant you flipping up the hood for extra cover — think gardening when black flies are around and your hands will be occupied for a few minutes.  The only downside of the Insect Shield hoodie is it is a little heavier, so probably not a great option on that 80 degree July day.  Find here.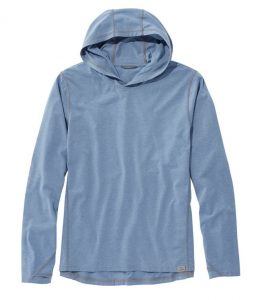 Columbia PFG Tamiani
Here. Columbia has been making nice gear for a long time, even though they are based in the relative mosquito-free zone of Portland, OR.  Their PFG shirts have gotten strong reviews in the market.  While the PFG lineup is not specifically made for or marketed as insect-blocking gear, the tighter weave makes it stand up pretty well to mosquitoes.  It is NOT treated with any type of repellent, so if you need industrial-strength protection, go with one of the other choices.  It is 100% polyester, similar to many others, and has good length and coverage to provide max protection from the sun, which is where this shirt really excels.  Find here on Amazon.
Patagonia Mosquito Shirt
We love our Patagonia shirt, something that is a mainstay in our duffel or backpack anytime we are headed out in the woods.  Made with recycled cotton or hemp, and with the Patagonia quality we have come to expect, this is a comfortable, breathable shirt that even feels good when it is a hot summer day.  It is so lightweight that it can double in situations where your main goal is to keep the UV Rays off of you so you don't get sunburn.  Made of soft fabric, the pronounced collar and buttonable cuffs allow you to seal out mosquitoes where they are most apt to sneak to your skin.  It is quick drying, and rarely smells of body odor.  The shirt tends to be very wrinkle-free so it packs well.  It does not include built-in repellent, but in our experience it is not necessary.  Highly recommended.
What to Look for in your Mosquito and Insect Repelling Shirts
When looking for your next mosquito or insect repelling shirt, here are a few things you should be on the lookout for.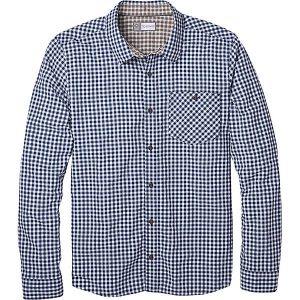 Fabric
You will typically find either polyester or nylon as the main fabric in any type of mosquito or insect-repelling shirt.  Studies show that a fabric with a thickness of 1.2mm tends to stop mosquitoes, and polyester and nylon are two good examples of fabric that tend to perform well at that thickness.  One important clarification is that while a relatively thin shirt can keep mosquito bites away, a wasp or hornet can sting through one thin layer. If your concern is keeping wasps and hornets away, you may want to go with two thin layers.
Cuffs and Neck
We recommend that you go with garments that have snug, or adjustable, cuffs around the sleeves and neck.  This is because, while your torso will be covered and protected, you will be exposed to bugs who want to come in around your neckline or at your wrists.  Being able to cut the insects off quickly will help mitigate the number who try to invade.  We prefer collared shirts because of the additional neck protection — which is just as useful against the sun's UV rays as it is against the skeeters.
Bug Repellent
More important for some buyers than for others.  Some shirts come with a treatment of permethrin or another repellent baked-in to it during the manufacturing process.  Having extra repellent built into the fabric is probably a good thing in terms of repelling mosquitoes.  However, our testing suggests that a garment without repellent is still highly effective.  If you want that last 10% of protection, go with the built-in repellent.  Otherwise, having anything that is designed to be mosquito-protecting will be a quantum leap from what you had before.  The chemical used to treat most shirts is a form of permethrin, something that protects against ticks in addition to mosquitoes, definitely a selling point if you will be in a tick-prone area.
Anti-Microbrial
Because these garments are largely worn in the summer, and in settings where you might be active in heat, you want to be sure that the sweat does not become a factor in the long-term performance of the shirt.  We like garments that are antimicrobial, so the sweat will not set in quickly.  Note that cotton shirts actually perform well in this regard too.  We have been pleased with the shirts we have used, and found that over time they tend to hold up well and act as if they are brand new after each washing.  All of the shirts listed above have some level of breathability and, in some cases, tested antimicrobial properties.  Stick to those and you will have a shirt that lasts longer for you.
SPF
UV protection is important, and we have found that a good mosquito shirt doubles as a very effective sun blocker in settings where you will be in the hot summer sun.  Think canoeing, hiking, fly fishing, all settings where it will be nice to keep the bugs away, but at the same time not have to use quite as much sunscreen as you might have otherwise.  These shirts are great in the sun because they are designed to be lightweight and cool…. you will hardly realize you even have it on.
Breathability
The times when you will need to use a mosquito-repelling shirt often coincide with when you might be exerting yourself and sweating.  Activities like hiking, working outdoors in the yard or in a forest, or on the job if you work outside of a city all create a situation where you will want breathable fabric.  While polyester isn't as breathable as some other fabrics, you will find it in many mosquito-repellent garments because it creates such an effective bug barrier.  Just try to get a weave that is breathable.  The good news is that poly and nylon do not retain moisture, so the sweat will evaporate.  In shirts where the poly / nylon blend makes up most of the shirt, look for a lightweight design and one that offers some venting options.
Price and Budget
Of course, everyone's budget is different.  Most of the garments we profiled sell for under $75.  We recommend not skimping.  Unlike like socks or t-shirts, this is one thing you not need to be 5 or 10 of.  Buy one good mosquito shirt, make sure it is good quality, and you will be happy with your purchase for years to come.  If you go cheap on a shirt from an unproven manufacturer, you can expect the shirt to not last as long, or not be as breathable in the heat which will cause you to want to wear it less.
Combining a Mosquito Shirt and Repellent
Our favorite combination of mosquito defense, when we are out in the wild or the woods, is the 1-2 punch of a good mosquito shirt (preferably long-sleeved) and mosquito repellent, combined with long pants and some sort of hat.  With that much of your skin covered, the mosquito repellent can be used sparingly.  We like to squirt a little on our nick (front and back), around our ears, and on our hands/wrists.  That helps your exposed skin stay protected on the long hike, portage, or while sitting at a campsite before a fire is going (the smoke from fires will keep mosquitoes away, too).  This combo is also effective against black flies, which tend to go for your head and neck area.