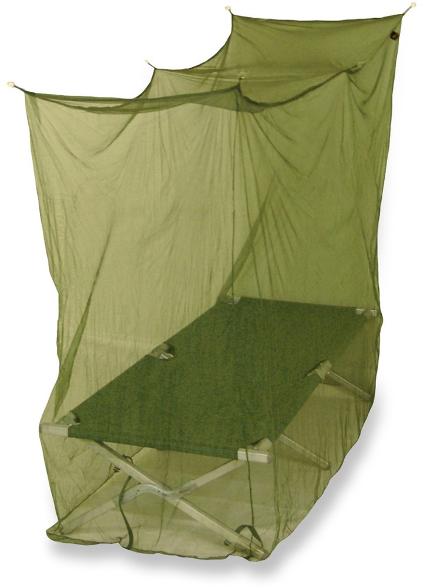 One of the most basic but effective methods of preventing harmful mosquito bites in high-risk regions is to use mosquito net around living and sleeping areas.  While organizations such as the Gates Foundation are working on ways to eradicate mosquito-borne disease, they also acknowledge that using a mosquito net is an economical and highly successful technique that should be used more often.
In a day and age of technological advancements and biological breakthroughs, a good old net might be one of the most effective ways to keep mosquitoes away.
Whether you are traveling to a foreign country where insect borne diseases such as Malaria are endemic, or are simply going camping in the US in a place where you may not have the ability to keep mosquitoes out of your tent or sleep shelter, a mosquito net can be an excellent method for preventing mosquito bites.
Mosquito Net Basics
Mosquito nets have been used for centuries, and it has even been recorded that Cleopatra used these nets for protection against insects.  Today, these nets are mostly made from cotton, nylon, polyester, polyethylene or polypropylene.  Effective mosquito nets are made with a fine enough mesh to prevent entry of these little horrors and as such, access to human skin while still allow the air flow required to keep the space inside the net from getting too hot — you do want to be comfortable after all. Ideally a mesh that has holes sizes under 1.2mm will keep mosquitoes away. To keep even smaller insects away, such as biting midges, hole sizes of 0.6mm and smaller such bugs from getting at you.
It is important to ensure that there no gaps or holes in the netting and that the netting is not resting on the skin, otherwise those determined insects will get access to you and cause havoc on your skin and to your health.  A mosquito net with tears or rips needs to be fixed as soon as possible.  When purchasing a mosquito net, make certain that there is ample netting and support to provide adequate protection, and do not accept a net that is not in excellent condition or has holes in it.
Staying protected need not be an expensive investment, especially if the mosquito net will be used for camping.  Obviously, ensure that there is full coverage during sleep, and if need be, spend some time with a pen and paper (or consulting a camping expert) to be sure you will have the right amount of coverage.  Don't forget to allow enough height for draping if going with the classic pyramid style.
Erring on the side of a little larger net is probably a good call.  After all, mosquito nets pack lightly and do not take up a lot of space in your pack.  There is no need to skimp.
Finally, consider a net that has been coated with a chemical like pymethrin for added protection.  We realize that some people will not like sleeping around a synthetic chemical repellent; however, even if you prefer a completely natural barrier, a plain mosquito net will be way better than no protection at all.  However, the extra protection provided by a coated net can be worth it.  Remember that such coatings should be refreshed every 6 months or so.  If used according to directions and not applied directly to skin, these chemicals are viewed as safe by US Government agencies.
There are lots of choices of size and design of mosquito nets available. Below are four of the best mosquito nets to consider: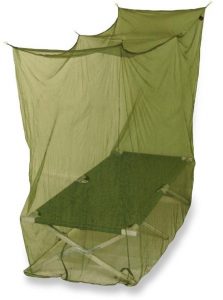 Mombasa Outback Travel Net
If you will be traveling in unknown conditions or rugged areas, the Mombasa is a great all-purpose net.  The net comes in both a single and double size, giving you enough room for whatever your situation is.  You hang it from up to six suspension points (three or more works best) which can be anything from a tree to a larger tent to even the side of a vehicle.  It has a green color that makes it feel suited for the outdoors.  The reason it is our favorite product is twofold:  We like think the six-point hanging system (you don't have to use all six) gives you much better flexibility and stability in hanging, and we really like who room it is inside.  You can stand up tall, unlike some of the other camping / outdoors nets which tend to be way too short.
And it's not just for sleeping. We know people who bring the Mombasa along on canoe or hiking trips for when they want to setup for a break, or create a field kitchen to prepare and eat a meal.  Find here.
Lifesystems Boxnet Mosquito Net, Single or Double
This net offers more space than most equivalent sized nets for camping due to the box design, although this means it is not as lightweight as its competitors.  The Lifesystems Boxnet is made from a white polyester mesh, has EX8 Anti-Mosquito treatment and has 156 holes per square inch. It also comes with a nylon skirting that has four lashing points, hang cords and hooks as well as a practical sack for transportation.  Lifesystems also offers a wide range of mosquito nets for sleeping including traditional pyramid style nets which are well respected by regular campers.  Find here.
Even Naturals Mosquito Head Net
Perhaps you are not looking to cover a large area with the next, but you just need to keep the mosquitoes away from your neck, head, and face. The answer might be the compact and convenient head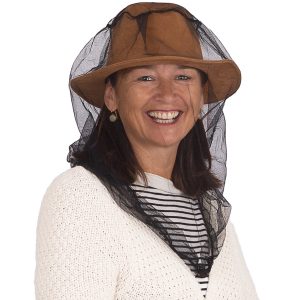 net from Even Naturals.  This is something you could wear while active — on a hike, while fly fishing, you name it — but it could also be used while sleeping if you were careful with how you slept.  You would just want to be sure it is not resting against your skin, making it easy for a mosquito to penetrate with its proboscis (it's mouth and stinger).  For those who might need something to wear around their head while being active, gardening in the evening, or working outside during prime mosquito hours, this might be a great option.  Additionally, it an be used with or without a hat, so is pretty adaptable to anyone who might benefit from it.  Find here.
Runnzer Mosquito Net Tent
While we have not used it first-hand, we are intrigued by the Runnzer mosquito net tent. It is a pop-up and fold-down cover that is specifically designed for sleeping outdoors.  The idea is that you pop the tent open and then sleep inside it.  You may want to use a sleeping bag in addition.  It would keep the most basic of the elements — bugs — away from you.  If you are looking for a tent that will provide protection for things like rain and wind, you may need a real tent.  People who have used this tent have good things to say about it, and we like what we see in its materials, construction, and design.  It folds up into a smallish package of 3 x 13 inches, and just 2 lbs.  The weight won't be a factor when doing a hike-in camping trip, but the dimensions of the folded tent will need to be accounted for.  However, if this is taking the place of your larger tent, then you likely will have created some room to spare.  A product worth considering for those who like to rough it.  Find it here.