Mosquitoes are a real hassle. Not only are they irritating and their bites annoying, but they can also transmit dangerous viruses such as Malaria, West Nile, Zika, and Dengue. In order to avoid being bitten by these annoying 'attackers', we have to learn how best to prevent them from getting close to our house.  Keeping them out of your house is a science unto itself — but what happens when they get in and you need to keep them away?
There are a number of solutions we can opt for. Recently, mosquito repellent light products have gained significant popularity thanks to their ability to keep insects away from both us and our and pets. You'll find many highly rated devices that create a shield against mosquitoes without turning to potentially toxic chemicals.
What to look for in a mosquito repellent light?
Start by deciding whether you need such device for indoors or outdoors. Some of these lights are designed to be used strictly outdoors, some only indoors, and some can be used both inside and outside your house. Then consider the size of the area you want protected. Different products work for different sized areas, so pay close attention to this important detail.
If you're going to use the repellent light outdoors, make sure to purchase a waterproof one that won't get damaged when it rains. Also, if you need something to use inside and outside the house as needed, you might want to choose a portable light device that you can carry around easily.
Below, we have put together a useful list for you of the best-selling mosquito repellent light items on the market.
Sunnest Electronic Mosquito Zapper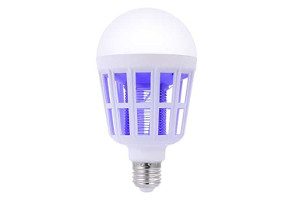 This product utilizes advanced technology that will quickly rid the area around it of mosquitoes, bugs, and flies. The adopted light-wave technique captures mosquitoes in a full 360 degrees arc, keeping you from being disturbed and/or bitten by these annoying bloodsuckers. Fitting in any 110v light bulb socket, the Sunnest Electronic Mosquito Zapper works both as a regular light as well as an insect zapper. If you only want to use its anti-bug function, you just need to flip the switch twice. Thanks to its energy efficient light bulb, this is a very economical solution that will also save you money. This repellent light is extremely safe, as it doesn't involve the use of any harmful pesticides. It has a soft, not dazzling light, a long working life (50,000 hours), it's environmental friendly and it can be used both indoors and outdoors.
Flowtron BK-15D Electronic Insect Killer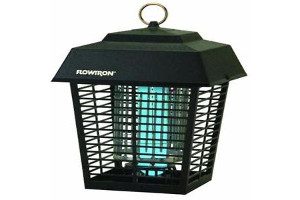 The Flowtron BK-15D is a highly rated, advanced electronic mosquito control device for outdoor use featuring an efficient, patented, non-clogging grid. This item has a 1/2-acre efficiency radius and is recommended to not be used within 25-feet of where human activity takes place; also, it shouldn't be attached to the deck, house, or other structures. It requires a 15-watt bulb (easy to replace) and it can start operating continuously and uninterruptedly as soon as it's installed. The best results are obtained if the cartridge is replaced every 30 days. This product doesn't harm the environment, doesn't require maintenance, and it can also be used as security lightning. Its sturdy, waterproof construction won't fade, rust, or crack.
EverPest Ultrasonic Electromagnetic Pest Repellent Control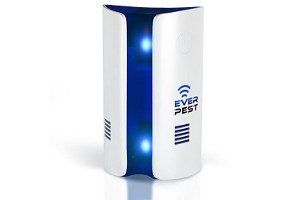 If you're looking for a powerful mosquito repellent light that can be used both inside and outside by just plugging it in, EverPest Ultrasonic Electromagnetic Pest Repellent Control is the perfect choice. This dual ultrasonic pest repeller combines top-notch technology with an attractive design. It's non-toxic, doesn't spread any type of poison, and it's really easy to install. Besides mosquitoes, this product will also help get rid of spiders, ladybugs, flies, hornets, bats, mice, scorpions, bed bugs, moths, roaches, gnats, termites, ticks, and crickets. The reason why is that this device's LED bulb light also emits ultrasound waves that will keep pests far away from your home.
Enkeeo 2-in-1 Anti-Mosquito Lantern Light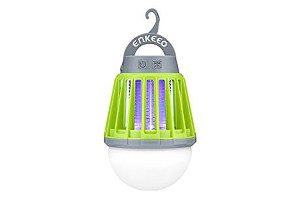 With a significant number of positive reviews, the Enkeeo 2-in-1 Anti-Mosquito Lantern Light is an outdoor, eco-friendly, portable anti-mosquito device that will offer you long-lasting protection against those pesky insects. It's actually a 2-in-1 product that also doubles as a camping lantern. Its 360nm-400nm ultraviolet light provides a 16×16 foot mosquito-free area. It's also extremely efficient for keeping other biting insects away as well. With its 3 different lighting modes, you can also adjust the brightness as you wish. Plus, you can use the removable lampshade for a softer light as desired. It features a compact, cordless design and it's lightweight (0.44 pounds), which ensures it is very easy to use and carry around where ever you happen to go. The Enkeeo 2-in-1 Anti-Mosquito Lantern Light can be charged by a USB port; it comes with a built-in 2000mAh battery and power-saving circuit, thus it ensures a long working life. Another great thing is that it is quite waterproof (IPX6 rating), so you don't have to worry about rain. When it comes about cleaning, you can be quickly wipe it clean with running tap water.
Do Mosquito-Repelling Lights Work?
Here is the deal with mosquito-repelling lights:  They work for small areas.  If you need to keep mosquitoes away from your porch chair while you try to read a book in the evening, the mosquito light can help.  However, they are not going to reduce the mosquito population, and they won't work on a large area like an entire backyard.  For that, you need to use some kind of mosquito yard spray to keep the mosquitoes at bay.
With all this information in mind, it's now easier than ever to figure out which mosquito repellent light best suits your needs. You're one step closer to making a knowledgeable decision and getting your hands on a trustworthy product.